Vitamins & Minerals
Nutrilo has established a good name for itself as a supplier of vitamins, minerals, trace elements and additives. The quality raw materials we sell are highly regarded by customers. All the raw materials we supply are of pharmaceutical or food grade. In case of vitamins, minerals, trace elements and additives, our customers can choose from a large range of around 1200 raw materials. In addition to the supply of raw materials, we also blend vitamins and minerals as well as refine vitamins to fit the individual needs of the food industry.
Raw materials
Our high-quality raw materials are optionally available with certifed Halal-Status as well as Kosher-Status. Moreover we offer a wide range of finishing options like coating and micronization.
Vitamin and mineral mixtures
The production of customised vitamin and mineral mixtures is one of Nutrilo's core businesses. Such premixes are perfectly tailored to the customer's processing conditions and meet the client's specifications exactly.
Flexibel

Our smallest blender has a capacity of 30 l, our largest can hold 3000 l.

How much do we supply?

Regardless of whether you need small quantities (MOQs) or 100 tons, you can rely on best quality and be sure that you are in the best possible hands with us.

Experience
Currently, we process 1200 raw materials in 8,000 formulations. Take advantage of our more than 30 years of experience in the application-oriented development of mixtures.

Nutrilo customers benefit from our strong focus on quality and from the large volumes of vitamins and minerals we purchase from manufacturers.
Service

Our service starts with consulting. We would be happy to advise you on the use of our vitamins and minerals in mixtures to find the best premixes for your product ideas.

Complete documentation is a must, as is our exemplary process safety. Give your products the added value that is so decisive on the market.

Ingredients & Antioxidants
In addition to the production of customised mixtures based on vitamins, minerals and trace elements, we can also offer mixtures for other purposes. These include mixtures of sweeteners and mixtures with other additives.
Fat soluble vitamins

Vitamin A (Retinol)
Vitamin D (Cholecalciferol)
Vitamin E (Tocopherol)
Vitamin K (Phyllochinon)

Water soluble Vitamins

Vitamin B1 (Thiamin)
Vitamin B2 (Riboflavin)
Niacin (Nicotinamid)
Pantothensäure
Vitamin B6 (Pyridoxin)
Folsäure
Vitamin B12 (Cobalamin)
Biotin
Vitamin C und Derivate (Ascorbinsäure)

Minerals
Calcium
Chlor
Kalium
Magnesium
Phosphor
Schwefel
Natrium

Trace elements

Chrom
Cobalt
Eisen
Fluor
Iod (Jod)
Kupfer
Mangan
Molybdän
Selen
Silicium
Vanadium
Zink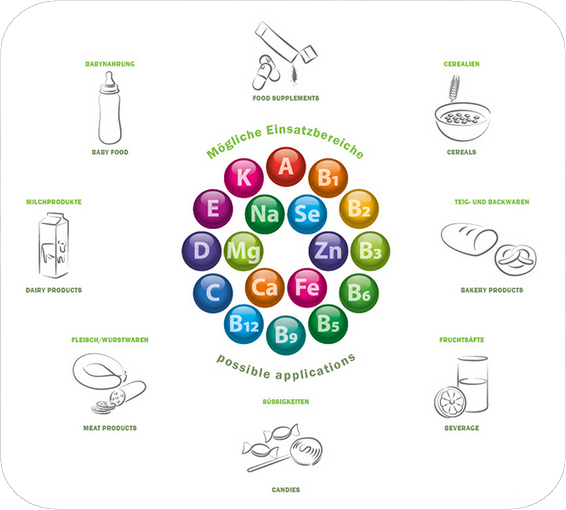 Possible applications for the food industry:
There are practically no limits to the ways these mixtures can be used in the food industry. For years now we have been supplying our mixtures to producers of fruit juices and to manufacturers of cereals, bakery products, milk and dairy products, instant soups and meat/sausage products. Our trained specialists will be pleased to be of assistance for your product ideas.
We would be happy to advise you on the use of our vitamins and minerals in mixtures and assist you with our expertise as a contract manufacturer on how you can use our premixes for your product ideas.